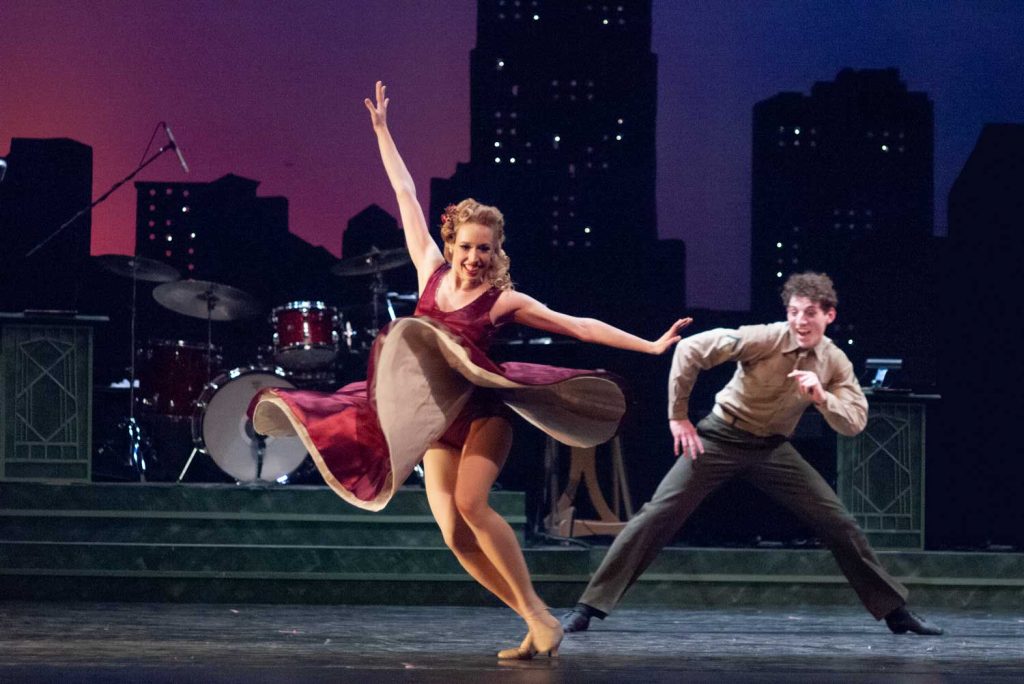 Saturday, Oct. 3
7:30 pm
Hoff Family Arts & Culture Center (sold out)
Friday, Oct. 9
7:30 pm
Orpheum Theater
RESCHEDULED AND READY: Swing, Swing, Swing!
It was a time like no other – when young G.I. Joes and Rosie the Riveters gave their all to save the world. You'll be swept away as a guy, a girl, and their friends kick up their heels, fall in love, and most of all… Swing, Swing, Swing!
Created by celebrated Chicago choreographer and showman Harrison McEldowney, this exuberantly unforgettable work was American Midwest Ballet's very first production. Now, it's back to help us celebrate the beginning of a new decade of dance!
Featuring live Big Band music by the DoyleMusic Combo!
Already have tickets?
If you already hold tickets to Swing, Swing, Swing, you have two options:
If you plan to join us for the rescheduled performance, no action is needed. Your current ticket will be honored on the new performance date for its venue. We look forward to seeing you at the show!
If you cannot attend the rescheduled performance, please consider donating the value of your ticket to American Midwest Ballet. Your generous gift will help sustain us during this challenging time. You will receive a tax receipt for the full value of your donation. To donate your ticket, please contact Development Director Sarah Maloney at sarah@amballet.org.
Should these options not work for you, please contact the Hoff Family Arts & Culture Center (boxoffice@paceartsiowa.org) or Ticket Omaha (ticketomaha@o-pa.org). Please be advised that you may experience a longer-than-normal wait time; we greatly appreciate your patience. Season ticket holders with questions, please contact seasontickets@amballet.org.
want to buy tickets?
If you don't yet have tickets, now is the time! Contact Ticket Omaha for the rescheduled October 9 performance at the Orpheum Theater.
About the production
---
tapping into '40s-style sisterhood
The close-harmony singing of the Andrews Sisters was one of the the most recognizable sounds of the '40s. We've got our own "sister act" trio for Swing, Swing, Swing! – but instead of singing, they tap dance! Watch this short video to hear real-life sisters Kelanie and Kogan Murphy, plus "honorary sister" Madeline Koesters, talk about working together and their shared love for tap.
Flipping for "Flyers"
Watch this short video to hear American Midwest Ballet dancers Nora Carr and Katerina Schweitzer on what it's like to perform the high-energy choreography of the "Flyers" section of Swing, Swing, Swing!
---
SYNOPSIS: SWING, SWING, SWING!
Choreography: Harrison McEldowney
American Midwest Ballet [Ballet Nebraska] Premiere:
Orpheum Theater, October 2, 2010
It's World War II, and a patriotic fervor unites the nation as Americans support both each other and their collective cause. Our scene is set with soldiers embarking on their daily routine – energized by spirit and determination.
At the same time, a bevy of hostesses prepares for the task ahead of them: providing entertainment to the servicemen on leave at New York's Stage Door Canteen. The soldiers seek a happy refuge from the rigors of war at this famous establishment. Big Band music, swing dancing and a host of performers offer much-needed recreation to these American heroes. One lucky man even finds love at the canteen and a girl to call his own.
The soldiers are shipped off to defend the nation. With the men away at war, the women assume the duties left behind – joining the workforce and coining the phrase "Rosie the Riveter." Overseas, the soldiers reflect on the nature of GI life and dream of Vargas calendar girls. Back in New York, a hostess from the Stage Door Canteen longs for the return of her new love, while he simply dreams of home.
A nation rejoices as the war ends and the soldiers return home. The young lovers reunite and dream of being a "Me & Mrs. You." In celebration, the Stage Door Canteen once again comes alive to the sounds of Swing, Swing, Swing!
ONSTAGE MUSICIANS FOR SWING, SWING, SWING!:
THE DOYLEMUSIC COMBO
Performing onstage with the dancers in Swing, Swing, Swing!, the DoyleMusic Combo is a collection of some of the finest jazz musicians in the Omaha area. Its members have played with local groups including Luigi Inc., The Confidentials, Rave On, the Omaha Big Band, the Steve Raybine Band, and many more, as well as in the original 2010 production of Swing, Swing, Swing!
Band members are:
Doyle Tipler: leader, trumpet
Ken Janak: saxophone, clarinet
Camille Metoyer Moten: vocals
Jeff Scheffler: guitar
Mark Haar: bass
Carlos Figueroa: drums
---