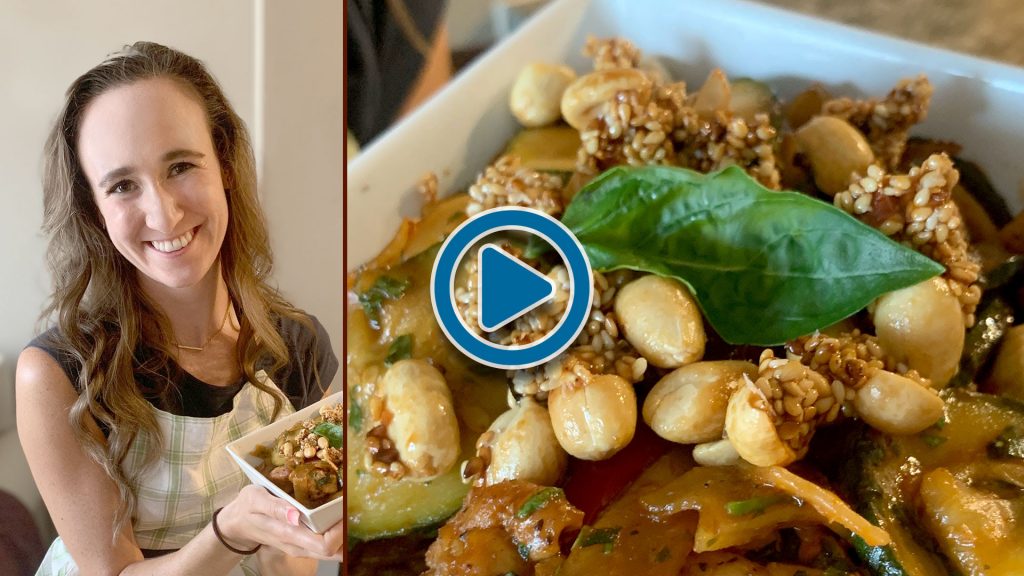 Step into the Ballerina's Kitchen!
Petite, precise, and sparkling, Alexandra Hoffman is familiar to AMB dancegoers in such roles as the Sugar Plum Fairy in The Nutcracker and the Gift of Wisdom in The Wizard of Oz. Away from the stage, she shows just as much artistry in another area: the kitchen!
To help kick off our new DancerLife video series, Alexandra invites us into her own kitchen to show how she creates a Thai summer stir fry that's just as tasty for fall, winter, or spring! As she works, she tells us (and fellow AMB dancer/camera-person Kogan Murphy) about how she got started with her culinary avocation. You can see the full recipe below and more of her creations on her Instagram, @ballerinaskitchen.
Future entries in the DancerLife series will include other engaging glimpses into the lives, activities and interests of AMB's family of artists. It's part of AMB Interactive – our new online portal showcasing the innovative ways we're continuing to share the magic of dance with our community!
---
When the stage is clear, we'll be ready.
While the pandemic has made it necessary to cancel our performances for the remainder of 2020, your support of the AMB Relief Fund will help see us through this difficult period. Gifts of all sizes will help offset these major revenue losses and allow us to support our amazing dancers and staff as much as we can in this challenging time, as well as fund our return to the stage when it's safe to do so.
Alexandra's Thai Summer Stir Fry
INGREDIENTS
– 8 oz rice noodles
– 3 tbsp toasted sesame oil or olive oil
– 1/4 cup plus 1 tbsp honey
– 1/2 c raw peanuts
– 2 tbsp raw sesame seeds
– 1/4-1/2 tsp red pepper flakes
– 1 Lb chicken breasts, cut into cubes
– 1/2 cup low sodium soy sauce
– 1 tbsp fish sauce
– 2-3 tbsp Thai red curry paste
– 1 tbsp ketchup
– 4 cloves garlic, grated or finely chopped
– 1 inch fresh ginger, grated or finely chopped
– 1 zucchini/summer squash, thinly sliced
– 1 red pepper, thinly sliced
– 1 orange pepper, thinly sliced
– 1 cup basil or Thai basil, chopped
– 1/3 cup cilantro, chopped
– Juice of 1 lime
PREPARATION
Bring a large pot of water to a boil.
To make the peanuts, in a large skillet, heat one tbsp sesame oil with the peanuts, sesame seeds, red pepper flakes, and 1 tbsp of honey. Cook until toasted, about 3-5 min, stirring often. Spoon the peanuts onto a parchment lined plate and sprinkle with salt. Set aside.
To make the sauce, in a small bowl or glass measuring cup, combine the remaining 1/4 c honey, the soy sauce, fish sauce, curry paste, ketchup, garlic, and ginger.
Wipe the skillet clean and add the remaining 2 tbsp oil. When the oil shimmers, add the chicken and season with black pepper. Cook until the chicken has a golden color, about 5 min.
Pour in 1/3 of the sauce and bring to a boil over medium high heat. Cook until the sauce coats the chicken, 2-3 min. Add the zucchini and bell peppers, cook another 5 min until the veggies have softened.
Meanwhile, cook the rice noodles 1-2 min using the recommended package directions.
Pour in the remaining sauce and bring to a boil. Add the rice noodles, cilantro, basil, and lime juice. Toss to combine, cooking until the sauce coats the noodles, 5 min.
Serve the noodles topped with the sesame peanuts.
Enjoy!